This may be hard to believe, but despite working at an
arts & crafts
store in high school, I am not the crafting kind of person.
Sure, I can and do craft, but more out of boredom then necessity.
It is away to fill an afternoon and spend time with the kids.
It is not a way for me to say... give gifts or make money. Not that I wouldn't, if I could, it is just that I have no follow through - believe me I have tried.
So now, I do random things, at random times and may or may not give them, randomly.
When my first grader was a baby, he had so many cute bibs! I had most of them but, they did not work for baby girls. I went shopping and promptly hated every bib they had for little girls. She was not a "diva" or a "princess" and she most certainly will not be the "OMG give it all to me" kind of a baby. She may be as a toddler but we are not there, yet..
I decided to make her bibs and drove straight to the fabric store and bought a bunch of cute prints and terry cloth fabric. I made dozens of bibs in the first go around using the
cereal box pattern
I found when I Goggled "how to make a bib." It is by far the easiest and fastest way to make a bib and it is super cute.
I cut out a dozen or so more, pined them together and never looked at them again, until my niece had her second baby. I decided I would make her baby a fiddle blanket. I made one for my baby girl and now I was determined to do it for her. She sent me a stunning quilt that she made so I thought it would be fitting to send her something I made.
Out
came the box that I keep all things sewing (that I had not looked at in months) and I trimmed the top half of the bibs that I had started, as close as I could to the circle and saved the Velcro. Yes, I could have just sewed the bibs and sent her those but honestly, I love the way the first blanket turned out and I was set on doing one for my new great niece. (I should mention that I had no idea that she was a she until she was born so as you can see I lucked out on the fabric)
Left is a bib I started that I was about to chop the top off of, top right was all the fabric I used for this project and bottom right is the stack of squares which really where rectangles

.
Once
I had the pieces, I pinned them together and sewed each together one block at a time. To the yellow and white gingham, I sewed a plastic grocery bag to it so it crinkles when you touch it. In retrospect, I would not have chosen that particular block but, eh, live and learn.
After
all the blocks where sewn together, I pined ribbons that I looped first to the right side of the fabric so when I sewed the single piece of pink and white stripped flannel to the blocks and turned it right side out the tags are securely along the edge.
Baby Girl and her Blanket made with love by her dear, old Great Aunty




All materials I used, I already had in my possession. Nothing was bought (unless you count postage).

btw... Is that not the cutest baby picture!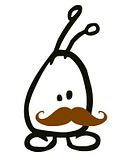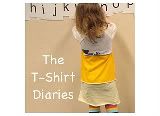 This was inspired by my dear (childhood) friend's blog and her
Upcycled Awesome of Stashbusting September
link up. Besides being brilliant with crafts, she is a great writer and a wonderful mom. Check out her blog: The T-Shirt Diaries.