This post contains affiliate links.
I can't believe the year has gone by so fast! Remember when you were a kid and time seemed to stand still? Now, there is never enough time.
In honor of the new year, and as I attempt to check some goals off my list, I've come up with some ideas to make the best of the new year. Some of them I hope to do and some I've done, which is good because I can already check them off my list.
1. Get Organized
I don't know about you, but if I don't physically write something down, I will never remember it. I know with devices and computers I can set reminders, but it never works. I have to write it down.
2. Count Your Blessings
I mean you should actually count your blessing and record them. Use a calendar or a planner to write down one thing a day, a week, or a month that you are truly grateful for or glad that it happened.
3. Stop Sharing So Much on Social Media
Thanks to Facebook's 'On this Day' feature, I realized that I don't share as much of my thoughts online as I did in the beginning, which for me was seven years ago. I share more photos and less of my opinions. No one really wants to know how your medication is working or that your ex is a horrible person. No one cares and it makes you look bad.
4. Limit Spending and Make a Budget
5. Stay in the Present
6. Go to Church and/ or Meditate
This on is not for everyone, but it's certainly something I want to do more, but I need to conquer some of my own issues to get there.
7. Read More and with Your Kid
8. Get Moving
I've been having some health issues and would you believe that moving more helps relieve the pain in my muscles? I want to get a Fitbit (I finally get the appeal!) but, for now, I will continue to use Google Fit on my phone. I won't remind me to get up but knowing I have an activity goal to reach each day forces me to get up.
9. Laugh More
This may be the hardest because it can be hard to find humor in certain situations, but wouldn't the world be a better place if we just laughed more.
10. Play More
The reason adult coloring books are so popular is because kids know that the key to happiness is to find joy in the simple things. Coloring books are great, but I say let's break out the LEGOS!
11. Step Outside of Your Comfort Zone
12. Break a Bad Habit
13. Stop Procrastinating
This should probably be first especially since it took me a week to write this list.
14. Forgive
Forgive those who've hurt you, including yourself. Feel like you can't do it? Find a way! I guarantee you will be happier.
15. Take a Class
Don't cook? Want to speak a new language? Curious about coding? Check out your local college or recreation department and take a class. No time? Pick up a book or Audible. (
Try Audible and Get Two Free Audiobooks
)
16. Remember Birthdays, Anniversaries, and Special Occasions
Can you recall what it was like to get a card in the mail? Me, neither, so let's start a trend and start using Facebook's upcoming birthday reminders to send out cards in the mail instead of doing shout outs on their timeline.
17. Donate More
I want to make this the year that I finally rid myself of unwanted baggage and by baggage I mean all the old clothes that we don't wear or will never fit in again and the kids toys that they no longer play with anymore. While I'm at it, I think it's time to go through my mom's stuff that I packed away after she died. I have no idea what's in there anyway.
18. Say "No" More and "Sorry" Less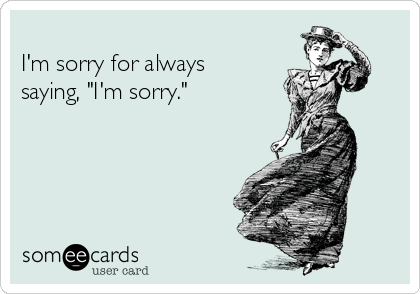 19. Have a Date Night
Who knew that after marriage that a date night would be so important? But, not just with the hubs. I need some quality alone time, too.
20. Write a List of Obtainable Goals
Just like using a planner to see my appointments and blessings, writing down what I want to achieve and giving myself a deadline may help me. What's important is that the goal is obtainable.
21. Smile, Even When You Don't Feel Like It
22. Say, "I Love You," More
Even when I don't feel it, I know I will regret it when I can't anymore.
Happy New Year!