Oh May, with all of your rain! Thank goodness for all the wonderful blogs that linked up to the Tailspin Hop, otherwise what would I have to read huddled with the kids, way under the covers.
Here are my top picks to receive the ever coveted
Who to Hang with Award
plus a bonus pick from a non-tailspiner but she awarded me with a versatile blogger and since this is my award
anyway
...
Don't forget to link up with the Tailspin for June and feel free to browse the other blogs from May... they are all wonderful in their own way.


Clean and simple... I love the design as well as the title,
Henry Happened
.
A mom and then a mom of two... this "former brand marketer" now stay at home mom says about her blog:
"This blog is dedicated to keeping creativity, curiosity and learning alive in the midst of crazy home life. I like to write about projects we're doing at home - lots of recipes, how to play with kiddos without going crazy, and how to give gifts and fancy up the home on a budget."
Stephanie is a joy to read especially:
Mom Spy
and
DIY.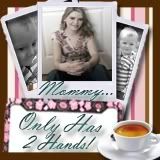 Stay at home mom ,who not only blogs but is starting her own cloth diaper line and is a caregiver to two children. Did I mention she is pregnant! (Congrats!) Must read the
Friday Feature!
A working mom raising her kids and she
bakes cakes
! I love her writing style, which is quick, to the point and often with a healthy dose of humor. So. worth. following!
A single mom on the verge of becoming a Mrs. and doing a brilliant job of raising her son, going to school and running a
side business
*phew* - that is just Tuesday!
She has so much going on and I love following her and reading her adventures!
There you have it! Be sure to follow them and tell them I sent you! The new linky is open for June and if you would like to be considered for this prestigious award please be sure to join and then follow your hosts - if you don't comment I won't know who you are...
note: This award was given to the above mentioned bloggers all in good fun and... totally meaningless, unless of course you are one who received this award and then it is priceless. I am sure all winners will want to grab the button so go for it!

You do not have to pass this to anyone.

And for those who want to check out all of May's links... They are worth it!

Each. And. Every. One.